Would you like to be a volunteer at Amundsen Race?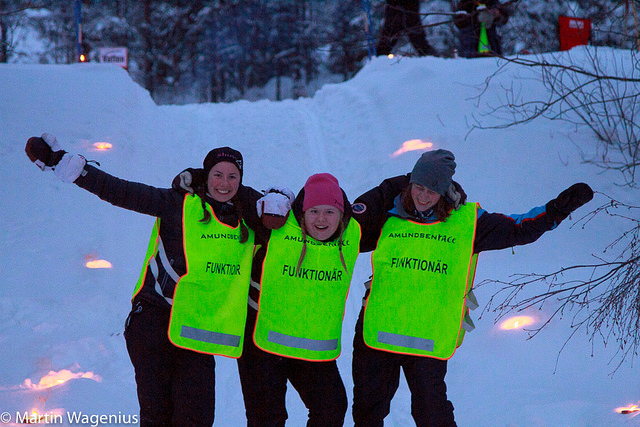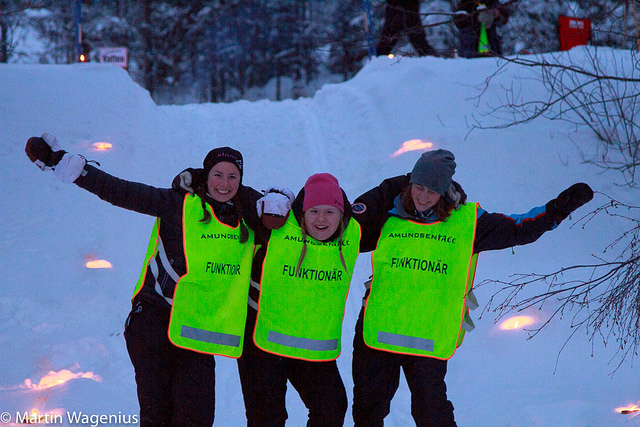 Do you like animals in general and dogs in specific?
Are you curious about sled dog sports and the adventures of long distance sledding?
Or are you considering to run a longdistance race and first like to see what it is all about?
Then YOU are the PERFECT volunteer for Amundsen Race, a valuable link between race organization and dog musher, and utmost important part of the organization, in other words
a kind of multitask force
What does a volunteer?
Volunteer tasks are many and divers from start to finish in Strömsund and on each checkpoint in Strömsund and Storåbränna among others to guide in teams, help at road crossings, time notification and rapporting, tasks at the secretariatet, follow the race and blogwriting for the website.
A variety of tasks are to be done in cooperation with the veterinary team regarding inchecking control of the dogs, or with the scooter squad when the preparation of the trail is concerned. In most of the tasks it is of course an advantage if you are familiar with dogs.
A long distance race goes on non-stop, for 24 hours a day during 3 days, which means that we need volunteers continously, working in shifts. All help is appreciated, even be it for few hours, so don't hesitate to contact us.
Volunteers are offered food and board. Bring with your sleeping bag, sleeping mat and headlamp!
What can you help us with?

Pre-Race
Help the secretariat. Inchecking of mushers, hand out bib numbers, check vaccination booklets, take in forms for vetchecks, etc.
Veterinary control. Help the veterinarians to check the identity chips on the dogs.
Preparations around the start area in Strömsund.
Race Start & Checkpoint(s)
Help the teams to the start
Road crossing guides
Prepare checkpoint in Storåbränna
Time taking and guide teams in and out of the checkpoint
Secretariat: publish times and information on the website.
Clean up the starting area.
During the Race
Time taking and guide teams in and out of checkpoint
Sekretariat: publish times and information on the website.
Help at the finish area
Clean up at the checkpoints after closure.
Race Finish
Time taking teams out of the last checkpoint
Take in those teams finishing
Clean up at the finish area
Are you available between 23 – 26 February 2023 and would like to help?
Contact us:  blifunktionar@amundsenrace.com