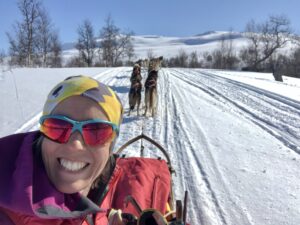 AR-170-8
Rookie
Ida
Collin
1974-06-24
Sweden
Sled Dog Club:
Norråkers IF
LD Experiences:
Beaver Trap Trail minst 10 gånger, Polardistans och Vildmarksracet

Breed: Siberian Husky
Number of dogs in your kennel: 2
Number of years mushing: 20

Lanthandlar/ turistentreprenör
Your hobbies: Vara ute med hundarna, hästarna och familjen.

Why Long Distance: För att det är en härlig utmaning att vara ute så länge med hundarna.
Race strategy: Ta det lugnt, ta hand om hundarna och mig själv så att vi orkar hela vägen. Och att njuta och ha roligt!
Leaders in the team (name/age): Anja och Yoda, kullsyskon 6 år gamla, den ena lugn och trygg den andra busig och lekfull.

Amundsen race har verkat som ouppnåeligt men nu känner jag att vi kan klara det och det känns häftigt!