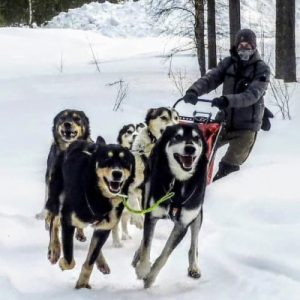 AR-320-12
Rookie
Cédric
Lemoine
1988-09-15
France
Sled Dog Club:
Vertaco Mushing
Kennel Name:
Laponie Mush
LD Experiences:
La Grande Odyssée Savoie Mont Blanc, Lapland Quest, Gold Rush Run

Breed: Alaskan Husky
Number of dogs in your kennel: 28
Number of years mushing: 8

Occupation: Musher

I am actually a cook and I fell in love with sled dogs 8 years ago. I started out in France, but soon realised that coming to Scandinavia was the best thing for my dogs. The well being and development of my dogs is my top priority. The weather conditions are much better in Sweden. We have started a sled dog facility in the north of Sweden 4 years ago and we now run long distance races. With the welfare of our dogs in mind, we will , in no case whatsoever, continue a race just to get a trophy. Our trophy is that our dogs finish the race healthy, fit and happy.